Banana Bungalow Hollywood
Deutsch

English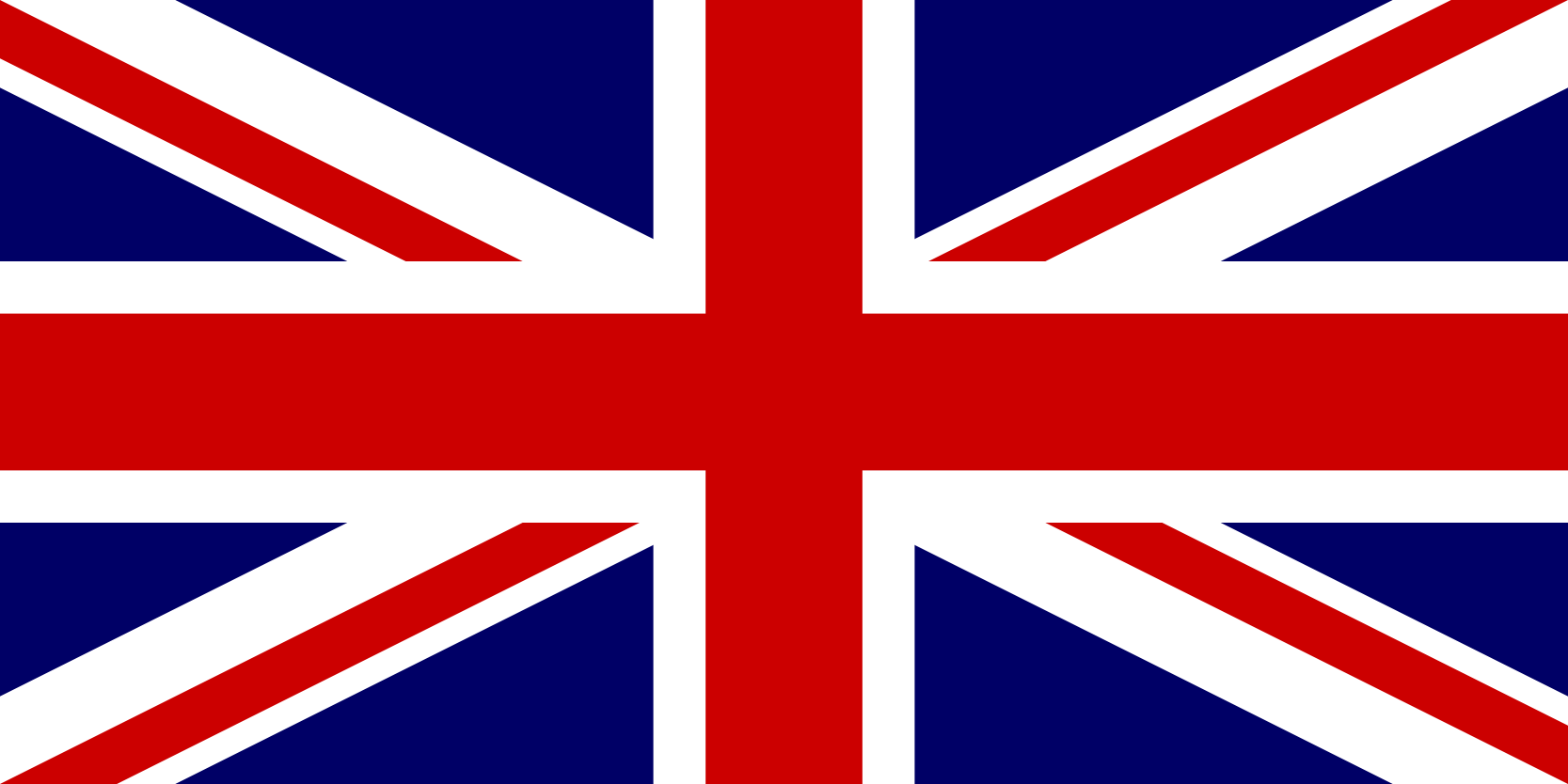 Español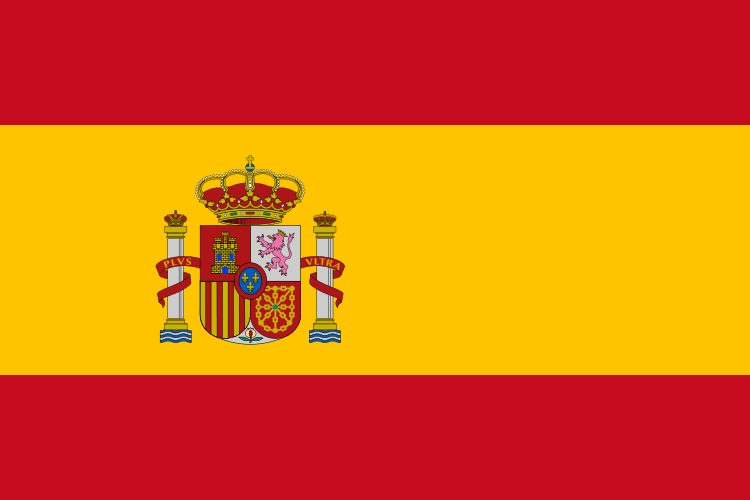 Français

Italiano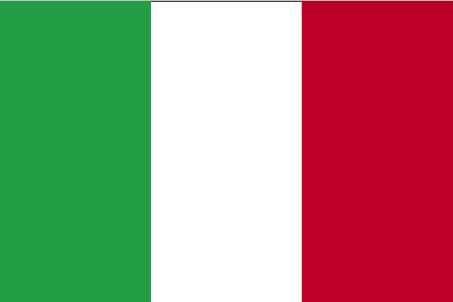 LOCATION | FACILITIES | AMENITIES | ROOMS | RATES | RESERVATIONS | ACTIVITIES | TOURS | CONTACT

The Banana Bungalow Hollywood Hostel is a very popular international destination with a great location in the center of Los Angeles. It is an oasis for backpackers with all the amenities, activities and events that travelers truly want from a youth hostel. This includes a friendly staff to help you, a fun international crowd to hang out with, cool rooms, lots of hip common space, a great vibe and atmosphere, plus daily events and activities that supply lots of fun for very cheap or even free.
We provide the budget international adventurer with safe and clean hostel accommodations plus a friendly and socially interactive atmosphere, giving travelers exactly what they are looking for at a youth hostel, fun. Right in the middle of Hollywood and Los Angeles, you will have everything you need to enjoy your whole "LA Experience".

LOCATION
We are right on Hollywood Boulevard in the heart of Hollywood with a view of the Hollywood sign from our courtyard. You will be walking distance from all the action of Hollywood and centrally located in Los Angeles, the hostel is close to the subway and bus stops to get around the "City of the Angels". We are a Cool Hollywood Motel that has been remodeled into a colorful and retro designed youth hostel, and right next door is LA's best Thai restaurant with fantastic $5 lunches and delicious $10 dinners....
From the BANANA BUNGALOW HOLLYWOOD HOSTEL you can walk to: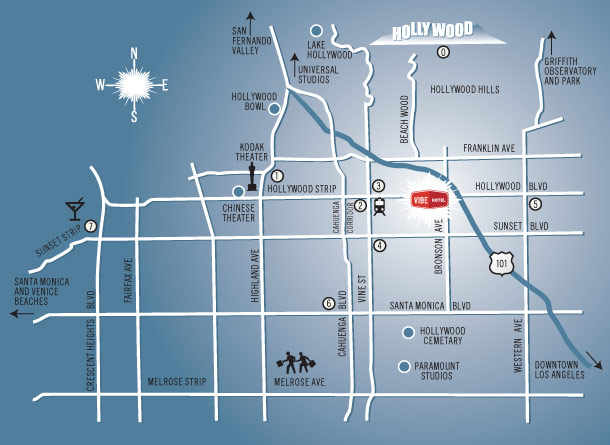 0- The Hollywood Sign Which can be seen from our courtyard, bike or hike to it or to the Bronson Caves.
1- Hollywood and Highland Which has become the "Times Square" of Los Angeles with the Walk of Fame, live TV shows, the Chinese Theater, endless shops and food, plus the Kodak Theater home to the Academy Awards.
2- The Cahuenga Corridor Has over 28 bars and nightclubs offering a party for all moods and all types of hipsters.
3- Hollywood and Vine The Historic Intersection has the subway metro rail station linking you with the rest of Los Angeles, and also features the Pantages Theater and Frolic Room bar. Coming soon will be the W hotel complex of amazing new restarants, shops, bars, hotel and much more.
4- Sunset and Vine Has been redeveloped featuring shops, theaters, restaurants and things to do for any budget. Including the Arclight Thearte complex, one of the best places to see current movies.
5- Hollywood and Western Has access to the Los Angeles subway metro rail and a huge discount grocery store.
6- Theater Row Is very close with an array of small acting theaters, this is where many big stars get their start acting and performing.
7- The Sunset Strip Is probably the place you'll see the most stars at night partying in some of the most famous nightclubs in the world.
Right next door is the The Palms Thai Restaurant, it is the best Thai restaurant in Los Angeles and has lunch and dinner for $5 - $12. Also within walking distance is the Henry Ford Theater or 'Music Box' for concerts and shows, the giant Vanguard nightclub and the glamorous Pantages Theater for live theater. Close to the Banana Bungalow Hollywood are the following places: The Hollywood Bowl (1.7 miles), The Greek Theater (2.7 miles), Universal Studios (4 miles), Downtown Los Angeles (6 miles).

FACILITIES
The Banana Bungalow Hollywood Hostel offers a lot for the international backpacker. The two main spots for hostels in Los Angeles are Hollywood and Venice Beach. The Banana Hollywood has important amenities that other hostels just do not have. Most dorms have kitchens and cable TV right in the rooms. Wireless is free throughout the building and there are mac computers that offer free internet access if you do not have a lap top. There is free breakfast, a basketball area, billiards, karaoke stage, ping pong, foosball, coin laundry, free parking and also a lounge and courtyard for gatherings and socializing.

AMENITIES
• Hot Hollywood Location
• Free Internet
• Free Wireless
• Free Parking Near Rooms
• Free Breakfast
• Free Coffee and Tea All Day
• Free Barbeques and Dinner Parties
• Private Bath in Every Room & Dorm
• Kitchens in most Dorms and Rooms
• Cable TV with hundreds of channels in all Rooms and most Dorms
• Free Lockers in Every Dorm
• Free Linens
• Free Luggage Storage
• Fun Lounge with Billiards, Dancing, Guest DJ's and Karaoke
• Courtyard with Ping Pong, Foosball & Basketball
• Tiki Garden with Sunbathing, Music and Refreshments
• Big Screen Movie Room with Surround Sound
• Special Hollywood Club Access
• Carpeted Cool Retro Design
MORE AMENITIES
• Runyon Canyon and Hollywood Sign Biking and Hiking Tours
• Los Angeles and Hollywood City Tour
• Beach Shuttles
• Discounted Tours and Shuttles including Disneyland, Magic Mountain, LA City and Universal Studios
• Cheap Private Rooms
• LA's Best Thai Restaurant next door, $5 lunches and $10 Dinners
• No Curfew and No Lockout
• Discounted Weekly Rates
• 6 bed dorms with 6 people per room or
• 8 bed dorms with 2 rooms and 4 people per room
• Free TV Show Tickets
• Free courtesy phone for US calls
• ATM on premises
• Cheap Car Rental
• Coin Laundry with Free Soap
• Safe and Secure Building
• Super Clean with Housekeeping Everyday

1. Premium private rooms have a queen size bed alone OR a queen plus one twin bed OR a queen with two twin beds in a bunk, a full kitchen, a 27 inch TV with satellite, air conditioning and a private bathroom with bathtub and shower.

2. Regular private rooms have a queen size bed alone OR a queen plus one twin bed OR a queen with two twin beds in a bunk, a 27 inch TV with satellite, small refrigerator, microwave and private bathroom with a shower.

3. Traveler dorm rooms with kitchens have six twin beds with six people per room, or eight twin beds with two rooms having four people per room, or twelve twin beds with seperating walls between bunks, a full kitchen, a 27 inch TV with satellite, lockers and a private bathroom with bathtub and shower. 4. Traveler dorm rooms have six or eight twin beds, lockers and a private bathroom with a shower.

We have many in house activities that are offered for very cheap or even free, they are coordinated with our other hostels in West Hollywood so you will always have something to do. Often with lots of free food, DJ's and cool people to meet. We also offer the following activities:
• Free Barbeques - Free food and great music with guest DJs, live bands on stage and a lot of new friends.
• Free Dinner Parties - Free food and lots of fun with a cool crowd of people.
• Free Karaoke Night - Get up on stage and sing your heart out. Be a star for one night.
• Free Pub Crawl - We will escort you to some of the coolest clubs and bars right down the street in the hottest party zone of Hollywood.
• Billiards Tournaments - Compete with other people for the chance to be crowned the billiards champion.
• Ping Pong Tournaments - Play for fun or compete with other people from around the world, it is free!
• Poker Night - Join in and play, bring your poker face.
• Open Microphone Night - Bring your best performance and be in the spotlight on stage, poetry, live musical performances, acting, comedy and more.
• Free Breakfast Everyday - Sit in the Tiki garden and enjoy cereals, oatmeal, toast, coffee and tea for free, or pay a little and get a home cooked meal.
• Free Soccer Matches - Represent your country on the soccer field.
• Free Basketball Matches - Show off your round ball skills. We have a basketball court right in our courtyard.
• Free Foosball - Play as much as you want, foosball with one on one or a fun game of doubles with new friends from around the world.
• Free Access to Clubs and Events - All dressed up and everywhere to go, hit clubs and events all over Hollywood.
• Free Events at Other Hostels - Make new friends and go to events and activities at our other Hostel located in West Hollywood.
• Free Movie Night - Watch hit movies on the big screen TV with surround sound while sitting in our theater seats right out of a movie set.


(844) 469-2500 ...Toll free in U.S.
(323) 469-2500 ...Office
bananahollywood ...Skype
(323) 469-6200 ...Fax
hollywood@bananabungalows.com
ADDRESS
Banana Bungalow Hollywood
5920 Hollywood Boulevard
Hollywood, CA 90028

Thank You for Choosing the Banana Bungalow!